We all want to reach a point in our life where we attain financial freedom, make more money and just live life.
But most of the times it is hard to achieve that freedom since most of us get stuck in the 9 to 5 grind.
Lucky for us, it is not 1980 anymore!
You can make the same (or more) amount of money as a 9 to 5 job without even leaving your bedroom.
All thanks to high-speed internet!
If you are looking to work for yourself and build your own freedom, learning how to become a Virtual assistant (also known as VA) might be perfect for you.
Being a VA will give you the flexibility to choose your own work hours, location, timing etc.
A freelance virtual assistant is someone who works for entrepreneurs or business owners to complete administrative tasks and other behind-the-scenes work to keep the business running smoothly. 
Being a Virtual Assistant has several benefits, such as learning how a thriving business works, being able to work from home, and setting up your own hours and pay.
Not only that,
you can choose between being a part-time or full-time Virtual Assistant, leaving you time for other things in your life if you aren't ready for the full commitment of a full-time job yet.
The demand for Virtual Assistants is rising for small and large businesses since many jobs are going online.
Virtual Assistants are also more affordable since assistants in-person need an office space to rent out, which saves money for the person hiring a VA.
What is a Virtual Assistant?
A Virtual Assistant provides administrative help for a business online, similar to what a secretary or assistant would do in person at a company. Most Virtual Assistants are self-employed and work from home, generally creating their schedule
Virtual Assistants ARE in demand and WILL be in the future
Did you know:
There has been a 95% increase in demand for VAs in the last three years?
The average North American virtual assistant earns $35 to $50 per hour, (with some going as low as $20 per hour and others as high as $100 per hour)?
A recent survey by Upwork shows 69% are happier freelancing than working in a regular office-based position
With technology advancements, businesses are more comfortable than ever working virtually.
What kind of tasks is a Virtual Assistant in charge of?
Virtual Assistants are in charge of a wide range of tasks. Some of these tasks include:
Graphic design (these could be social media images, digital product covers, etc.)

Social media management

Editing

Bookkeeping
---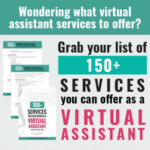 These are just some examples, there are many more services that you can offer!
If you want to know more about what you could offer, check out this list of over 150 services that a Virtual Assistant can offer to a client by downloading it here
---
Benefits of being a Virtual Assistant:
Working at your own terms and being time-location flexible

Learning how successful businesses run their business.

Learn strategies and tips from the pros.

Make a great income all from home.

Be apart of a thriving business and contributing to the success,
What is the average salary for a virtual assistant?
From the little research that exists, the average North American virtual assistant earns between $35-50 per hour. This is going to depend on your experience, skill-set, and areas of expertise.
The more specialized your services and the more experience you have, the more you can charge. 
I've seen people in this community charge as little as $15 per hour and others earn more than $100 per hour (including Gina From Horkey Hand Book). Ultimately it comes down to being really good at what you do and finding clients that value what you're offering them.
Learn How Gina build a successful VA business from absolute scratch in less than 6 months
… While having a fulltime job being a mother.
Gina from Horkey Hand Book, a millennial mom to two kids, is an awesome example of how you can set up a VA business. 
A few years ago, she was working full-time in personal finance but was looking for a change. Within 6 months of working as a Virtual Assistant she was making $4,000 a month part-time while still having a job, and after 8 months she finally handed her notice and never looked back
What's the best thing about being a VA?
Here are a few best things:
You can control your schedule and can work when and from wherever you want.

You can meet and work with the most interesting people.

You can learn SO many new skills – If you ever wanted to go to any Corporate Job, you could probably get hired by virtually any marketing department based on your newly obtained experience.
[clickToTweet tweet="Becoming a virtual assistant can really change your life! You'll never know what you're capable of if you never try!" quote="Becoming a virtual assistant can really change your life! You'll never know what you're capable of if you never try!" theme="style3″]
Don't think about what the worst case scenario could be – instead think about what's the BEST POSSIBLE OUTCOME that can come from trying something new.
How can you get started?
If you are serious about becoming a Virtual Assistant, you are motivated, disciplined and have a desire to be self-employed, I know you'll love Gina's course 30 Days or Less to Virtual Assistant Success.
Many students end up getting hired by their first client before they finish the course.
Some students have the goal of bringing in a few hundred extra dollars each month, while others want to replace a six-figure salary.
Brea, for example, took the course in May 2017 and by July had her Virtual Assistant business up and running and she now earns over $4,000 working from home as a social media manager.
You can read more success stories here.
Related Blogs: